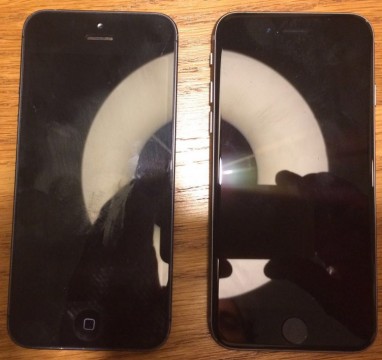 The Apple rumour mill never seems to be at rest and we're a fair distance from the typical launch period for any new iPhone. That said, could we see this new iPhone launch alongside the new iPad Air and iPad Mini in March 2016?
This image shows that the current iPhone 5S, might be the size of a new smaller iPhone that's been expected.
Apple were late adopters of a larger screen and when they finally launched the iPhone Plus size, it went down a storm. Personally, I'd be happy to see them enlarge the screen a little bit more.
The iPhone 5C which was tipped as the entry level iPhone was not that well received and received no revamp or new models. Plastic iPhone is just not the one.
The iPhone 5S is still going strong and is now the more affordable, rather high spec, entry level iPhone.
So what can we expect from the new iPhone Mini? Looking at the image it's clear to see we the phone will have a fingerprint sensor which will more than likely support Apple Pay.
Camera spec? The minimum we should expect to see on this phone is that of the iPhone 5S, so anything in the region of 8MP or above.
Will we see 3D Touch on the new, smaller iPhone? Doubtful.
One this is for sure, if Apple do indeed revamp or replace the iPhone 5S with a new smaller model, Apple will certainly have all corners of the smartphone market well and truly covered.
Are you looking forward to the new iPhone?