Mobile Phone insurance
You may think that your mobile phone is covered on your Home Insurance. It may well be, but you may want to check the excess you would need to pay if you claimed. This is often somewhere between £250 and £350 (especially when voluntary excesses are included).
According to Home Office figures in 2013 some 700,000 mobile phones were stolen. 224 phones are reported stolen every hour!
The phone most commonly stolen, unsurprisingly is the Apple iPhone. It is so common, that it is now known as "Apple Picking". A stolen iPhone can fetch anything in the region of £500 when sold on.
Some of the hotspots where you might find yourself having your mobile phone stolen are Cardiff, Edinburg and Hull. From reports of lost phones, in Cardiff, 33% of these were reported stolen.
The chart below indicates the most likely place you are to have your mobile phone stolen.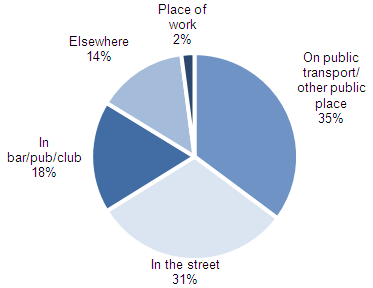 Below are some simple steps to take in order to protect yourself from mobile theft:
Keep a record of your IMEI number.
Register your phone for free on www.immobilise.com
Use a PIN number and screen lock security options.
Never leave your phone unattended in a public place.
Never reply to Spam messages (even to reply "STOP").
Install a tracking app on your smartphone.
If it is stolen, report it to the Police immediately.
Back up your mobile data.
If you are considering purchasing a second hand mobile phone, look out for some of the following points to ensure it is not stolen:
When looking at advertisements, look for certain wordings such as "does not work in the UK but works abroad".
Check the photograph. If it's a stock picture, ask to see some more original ones.
Check the price against other similar phones being sold.
Check the IMEI number on www.checkmend.com/uk
Use only a cheque, bank transfer or PAYPAL to make your purchase. This will protect you if you later come to discover the phone is stolen.
Mobile Phone Damage
33% of damage to mobile phones is water damage, and the majority of these reports is from dropping the phone down the toilet!
39% of people questioned in a recent poll reported that they took their phones to the toilet with them.
Other common reports include driving off in the car with the mobile phone still on the roof, sitting on the handset or dropping it in the street.
It costs in the region of £220.00 to have a screen repaired on a Samsung Galaxy S4, £125.00 for an iPhone 4 and £165.00 for the HTC One.