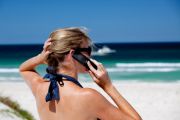 A recent survey carried out by Vodafone found the majority of mobile phone users do not have valid phone insurance.
The survey, which was carried out by 1845 participants found that almost 80% did not have sufficient mobile phone insurance to protect them whilst they were travelling abroad.
1.8 million people were expected to travel over Easter and the majority had made very little effort to ensure their mobile phone would be protected against theft and unauthorised use.
More than 50% of the people, who were surveyed between February 16th and March 6th, said they would have no idea what to do in the event their mobile phone was stolen. See our guide to reporting your mobile phone lost or stolen. Lost/Stolen
60% said they would carry their phone on them at all times when abroad, 46% said they would keep their mobile phone in their pocket and 33% said they would leave their mobile phone in a handbag on the floor.
Mark Bond, Vodafone UK customer operations director, said: "Because it is very easy for criminals to rapidly build up charges on stolen phones, we (Vodafone) encourage customers to report their mobile phones missing as soon as they can. Reporting your phone Lost/Stolen
The advice when you're travelling abroad is to make sure you take all necessary steps to ensure you do not fall foul of theft and unauthorised usage of your phone. Make sure your phone has a security lock on it and you have set up a pin lock on your sim-card. If your sim-card does not have a pin lock on it, the stolen sim can be removed from your phone and used in another handset.
In the unfortunate event your phone is stolen whilst you're abroad, make sure you contact your mobile phone provider immediately so they can suspend your service, which will stop anyone from running up a huge bill.
Take necessary steps to ensure you are protected in the event your phone is stolen. Take out adequate mobile phone insurance which covers you whilst you're abroad and the good news is phone insurance from BuyMobilePhoneInsurance.com comes with worldwide cover.
If you have any questions regarding using your mobile phone abroad and how you can protect yourself, please get in touch. Contact
Source: Mobile News