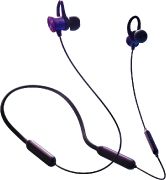 The globally known firm OnePlus unveiled during its London launch of the handset the OnePlus 6, their new OnePlus Bullets Wireless – which are wireless Bluetooth ear buds that will look to take on high priced Apple-owned Beats X – but for half the price of the up market variant. The company is already known for making rival devices to flagship products, and they have set their sights on doing the same tactic in the wireless ear bud market.
The OnePlus Bullets Wireless are set to cost users just £69, and will come with a familiar look to that of the Beats X. Each bud contains a 9.2mm driver, and the two buds can link together via magnets so as to hang safely from your neck whilst not in use – this will also pause the music at the same time, and then when unattached will resume. They will be compatible with Google Assistant and Qualcomm aptX for the highest quality streaming possible. The ear buds are also water resistant, and feature Fast Charge that will be able to provide up to five hours of music playback after just 10 minutes of charge.
OnePlus Bullets Wireless ear buds will be launching on the 5 June and they claim that they will punch "well above their weight" when it comes to audio quality. We have high hopes for this product, and it could be a real rival for Beats X.