Huawei usually give more attention to the 'P' models, not the Pro or Plus versions but this year is different. The P20 Pro is simply better than the regular P20, sporting a larger screen and a massive camera upgrade (I mean a massive upgrade.) The release date is set for 6th April, so not far at all, you can already pre-order this phone from most major retailers or providers. This is Huawei's new top flagship smartphone.

The P20 Pro now comes with a glass back, they have also moved the fingerprint scanner to the front below the display. A new feature is the ability to swipe right or left on the scanner to navigate the phone (you can enable or disable this setting.) We are still not sure on the dimensions of the whole phone, we do know it is 7.8mm in thickness. It will also be waterproof up to IP67, something that the P20 is not. This means you can submerge the device in a puddle without a worry, however a downside to this is losing the headphone jack.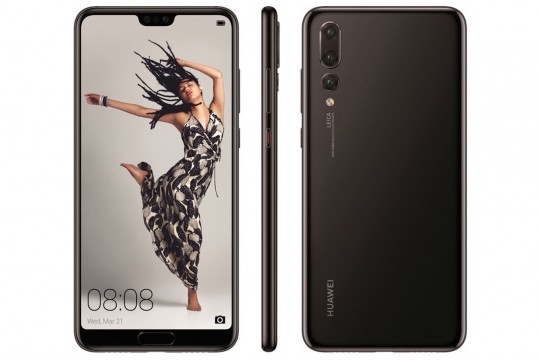 Display wise the P20 Pro will have a 6.1-inch OLED screen with a resolution of 2240 x 1080. This means Full HD+, not quite as impressive as the QHD screens you'll find on other devices. Still a good quality screen nonetheless, you'll also think the front-facing camera and speaker are positioned similarly to that of iPhone X – imitation is a form of flattery as they say.

Underneath that Full HD+ screen is 6GB of RAM, with the HiSilicon Kirin 970 chipset – all giving the phone more than enough processing power to deal with whatever you throw at it, multi-tasking or gaming etc. The device also comes with one storage option – 128GB – meaning they have rid of the pretty unattractive 32GB variant, with MicroSD also being supported again.

The unavoidable wireless charging craze has eluded this device, however fast charging has been included – and highly welcomed, bringing with it full battery charge in around an hour. The battery itself will be a 4,000Ah battery, but powering the large display we'll have to wait and see how well this does.

Android's 8.1 Oreo software will be onboard, with Huawei's overlay (Emotion UI 8.1) on top. Unfortunately there's not much we know about Huawei's overlay software, so we'll have to wait to find out what that's like too.

Now the camera, this is the biggest difference between the Huawei P20 Pro and the P20. This is the first phone to feature three cameras on the rear. With a 40MP RGB sensors simultaneously working with a 20MP monochrome one, Huawei claim this phone has the highest pixel count ever seen on a smartphone. It also comes with a 8MP telephoto sensor offering 5X zoom capability, and a 4-in-1 hybrid autofocus system.

The 24MP camera on the front of the device is also far more megapixels than you'll find on other smartphones, far better selfies will soon be had. We can't wait for this device to release.