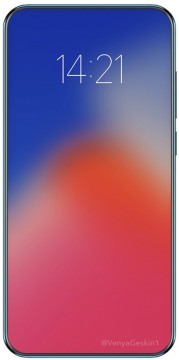 Since Apple unveiled the stunning and revolutionary iPhone X, nearly every smart phone manufacturer has pounced on the notch trend, along with the seemingly endless desire for these companies to achieve truly bezel-less displays. All these tech firms seem to have gone down that one route, with the best solution for bigger displays being found by incorporating the notch, which means they can still offer a front camera with facial recognition.
However, Lenovo are about to go down a different route to achieve the perfect display. It has been reported that the company will unveil the Lenovo Z5 this summer, with leaked images showing this as posted on Twitter. It will rock a similar look to that of the iPhone X, but with the omission of the notorious notch.
Many rumours flying around all say that the new Lenovo smart phone will actually feature a 95% screen-to-body ratio, with no notch or large bezel at the bottom of the screen. This would be highly impressive and certainly grab the attention of the masses if confirmed. We are not sure what this means for a front camera however, we will have to see how Lenovo may have hidden or omitted that.
We are heading towards smart phones that comprise of no notches or bezel, but if Lenovo have managed to get that 95% screen-to-body ratio, then they will be the front runners in the race to get the first fully bezel-less phone.