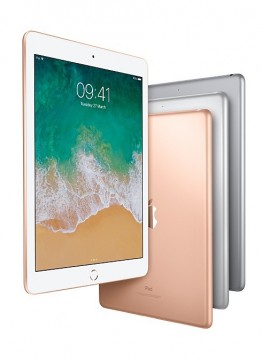 The latest iPad from Apple is here to deliver the best tablet Apple have produced at a more affordable price, however it is still not exactly the cheapest or most affordable tablet out there. It comes with support for the Apple Pencil, enabling a new method of interaction along with plenty of apps with the Pencil. The previous iPhone 7 chipset has been added to the new iPad as well to provide the performance.
This iPad is priced at £319, so the same as the previous model - but the point here was to bring the performance levels closer to their iPad Pro variants. Schools will be able to get a discount (around 10%) to make it more accessible for students and teachers. This price is also for the standard version, with Wi-Fi only and 32GB of storage, with the 128GB version priced at £409.
Apple have chosen the A10 Fusion chip from the iPhone7 to power the new iPad, with 2GB of RAM – more than enough power for such a device, and is better than the expected A9 chipset most people thought Apple would use. Again this addition fulfils Apples desire to bridge the gap in performance in their iPad range.
The design of the new iPad is nothing new, still bearing the same metal back and home button with touched security. The bezel is still evident, but this is still obviously a well designed tablet, as we have seen with every iteration of iPad thus far. They have made the new version 1.1mm thicker than the old Apple iPad Air 2 released a few years ago, making it surprisingly nice to hold before it is inevitably wrapped in a cover due to its metal surrounding.
The screen is nothing to shout about, but does its job just fine for the price – its crisp, sharp and displays very good colours. The resolution of 1536 x 2048 pixels is the same as we've seen for the past few years, which is actually okay as you don't need many more considering the distance between face and tablet compared to face to phone.
As for battery life, the new iPad compares incredibly well with the iPad Pro versions – lasting nearly/just as long. You can expect the battery to last around 10 hours as claimed by Apple, a feature that needs to hold some truth if this device is to be used in schools as Apple desired it.
Overall this tablet is clearly there for education purposes, and may well prove to be perfect for that. The only downsides are that it is still priced fairly high compared to other options, but it is a more feasible option now it's been bumped up with new features.