Compare cheap phone insurance and get an instant quote for your Pixel 6a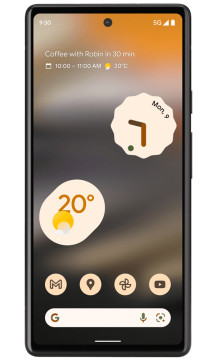 The Google Pixel 6a
Affordable, super-fast performance from the smart and powerful Pixel 6a from Google.
The Pixel 6a is available in three colours, Sage, Chalk and Charcoal, with 128GB of internal storage.
The Pixel 6a has the same brains as the Pixel 6 Pro, which makes your apps launch faster, pages and images load quicker, and everything runs more smoothly.
With the Pixel's adaptive battery feature, you can expect your 6a to last all day. With the extreme battery saver, you could experience up to 72 hours on one charge, and then in a few minutes, you can fast charge your phone for hours of power.
Remove unwanted objects with the Magic Eraser feature on your Pixel 6a.
Customise your 6a with Material You from Google and get the things that are important to you done easier and faster than ever before.
Google Pixel 6a Specifications:
Display
Full-screen 6.1-inch up to 60 Hz
FHD+ (1080 x 2400) OLED at 429ppi
Corning® Gorilla® Glass 3™ cover glass
Dimensions
6" height x 2.8" width x 0.35" depth
Weight
178 g
Battery
4410 mAh with Fast Charge
Memory
6 GB LPDDR5 RAM
Storage
128GB
Processors
Google Tensor
Titan M2™ security co-processor
Rear Camera
12.2MP dual-pixel wide camera
Front Camera
8MP
What mobile phone insurance do you need for your Pixel 6a?
You can choose our Essential Cover, which provides peace of mind when you need it the most against theft or accidental damage, and worldwide cover for those holidays or business trips abroad. And any member of your immediate family is covered whilst using your phone.
In addition to all the benefits above, you can choose our Full Cover, which provides peace of mind should you lose your Google Pixel 6a.
Protecting The Phone You Love Since 2011.
Our mobile phone insurance comes with the following
A hassle-free claims process
Our claims processing team is based in the United Kingdom and we provide a straight-forward, hassle-free claims process whether you're making a claim for a smashed screen or a stolen phone and claims can be submitted online 24 hours a day.
Accidental Damage
If your mobile phone is damaged accidentally we will repair your phone and if it can't be repaired we will replace it, like for like.
Liquid Damage
In the event your smartphone is damaged due to liquid ingression and can't be repaired, we will replace it.
Mechanical Breakdown
If a breakdown of your mobile phone occurs outside of the manufacturer's guarantee or warranty period we will pay the repair costs. If we are unable to economically repair your phone, then a like for like replacement phone will be provided.
Loss
Should you wish to take out the optional loss cover at an additional charge and lose your phone we will replace it.
Theft
If your mobile phone is stolen we will replace it, like for like.
Worldwide Cover
We provide up to 90 days cover abroad per annum.
Family Cover
Immediate family members using your mobile phone will be covered.
Unauthorised Use
In the event your phone is stolen or lost, your misuse of equipment cover is up to £1000.