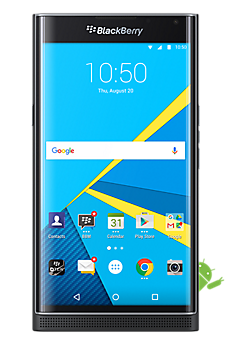 As the age old saying goes, "it's never too late"
Although BlackBerry has undoubtedly had a torrid time over the last 7 or 8 years, it goes without saying they should have adopted the Android OS years ago.
BlackBerry was once the dominating smartphone amongst business users and consumers alike and at its height the Canadian manufacturer had over 20% market share across the globe. Now, it's less than 1%.
But it's not all bad news and here's why.
BlackBerry has finally launched their Android based device, the Priv and underneath that lovely touch-screen there's a good old fashioned physical keyboard.
Has it been too long since we've used a physical keyboard and do we still want to use one? Time will tell and the sales will be the judge.....
If you want the best of what BlackBerry provided on their old smartphones, you're in luck, as the powerful and secure device will not disappoint.
BlackBerry Priv Key Features:
Android 5.1.1 Lollipop
5.4 inch screen
18MP camera
1.8GHz dual core + 1.44 GHz quad core Qualcomm Snapdragon 808 processor
RAM 3GB
Weighs 192g
Screen resolution 2560 x 1440 pixels
Video camera 4K Ultra HD
3G, 4G,WiFi, Bluetooth
32GB internal memory
MicroSD up to 2TB
The Priv really is a stunning looking smartphone with everything we wanted, albeit a few years ago....... Now it's up to you to decide whether BlackBerry really can turn a corner and get back on its feet.
BlackBerry Priv is exclusively available at the Carphone Warehouse – View Deals
When buying a new mobile phone, you should always consider comparing mobile phone insurance policies to ensure you get the best cover at the right price. Compare mobile phone insurance